I am absolutely in favor of prayers delivered by local clergy to start off Council meetings. Many if not most are written, and that is okay with me. They are carefully prepared and delivered from the heart of the person speaking. They invoke a spirit of civility and, aways, wisdom and discernment on behalf of the governing bodies.
Many of these prayers create an inspiring moment and a reminder of why councilmembers said they wanted to represent the people with an emphasis on ALL of the citizens. Most council meetings are launched with the framework for pledging not to forget why everyone in the chambers is there. Many of these prayers are confirmed as the purpose of proper governance with an appreciative Amen!
Not just from the elected body but from the citizens in the audience. Translated: We are in agreement with your words and with your spirit of love and the contract embedded in the response to work for the common good.
And that's it.
Thank you, dear clergy, and don't let the exit door hit you in the butt! Let the slugfest begin!
Why is there such a disconnect from that moment to the plunge into the political fracas that often follows? How can one feel blessed and re-committed to be civil and constructive one moment and then jump into personal agendas a few minutes later, turning a collective back to the clergical guidance and plea?
A few years ago I decided to compile all of the prayer for one year and to publish them with a concluding statement: All you have to do is to adhere to these words, perhaps the only words in the meeting that are needed to replace any toothless Code of Ethics or Rules of Decorum, to be the best council in the history of your city!
But then I thought about the level of work versus the potential to make a difference. A cop-out, I'm sure. Here's all I need as a source: https://chaplain.house.gov/archive/index.html. I will close with the first prayer.
My own prayer is that elected bodies, staffs and audiences listen to the prayers – and incorporate the words into every action and exchange of thoughts and opinions. Most local governments will have a few new members as of the elections yesterday. The first meetings are typically the best for the entire term. Warm congratulatory well-wishers in front of families. Genuine words, usually, with a spirit of renewed commitments as sitting members reflect back on that same night for them.
Freeze that moment and scene. Savor it. Study and replay.
But it means nothing, really, if personal agendas and a lack of respect dominate every hour after that first one.
It doesn't have to be that way. Fortunately, I have seen a few councils that seem to run against the grain. It wows me to see how it can be done and should be done. Disagreement, sure, but without a drop of bitterness. Genuine supportive statements exchanged with ease. It is common for some councils to praise the staff. It would be awesome for councilmembers to praise their peers.
Things like that would happen if only the words of the clergy prayers permeated the chambers and the hearts of everyone there or watching online. How profound! I'm certain that there would be a covenant of decorum that would change the council and every committee and, in fact, the entire community would be changed forever. LFM
First Prayer of the Continental Congress, 1774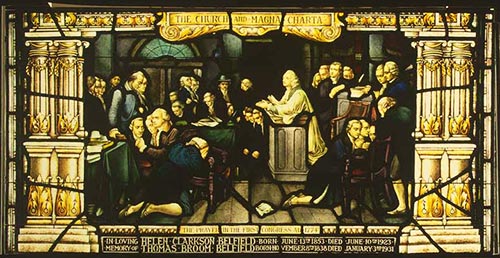 O Lord our Heavenly Father, high and mighty King of kings, and Lord of lords, who dost from thy throne behold all the dwellers on earth and reignest with power supreme and uncontrolled over all the Kingdoms, Empires and Governments; look down in mercy, we beseech Thee, on these our American States, who have fled to Thee from the rod of the oppressor and thrown themselves on Thy gracious protection, desiring to be henceforth dependent only on Thee. To Thee have they appealed for the righteousness of their cause; to Thee do they now look up for that countenance and support, which Thou alone canst give. Take them, therefore, Heavenly Father, under Thy nurturing care; give them wisdom in Council and valor in the field; defeat the malicious designs of our cruel adversaries; convince them of the unrighteousness of their Cause and if they persist in their sanguinary purposes, of own unerring justice, sounding in their hearts, constrain them to drop the weapons of war from their unnerved hands in the day of battle!
Be Thou present, O God of wisdom, and direct the councils of this honorable assembly; enable them to settle things on the best and surest foundation. That the scene of blood may be speedily closed; that order, harmony and peace may be effectually restored, and truth and justice, religion and piety, prevail and flourish amongst the people. Preserve the health of their bodies and vigor of their minds; shower down on them and the millions they here represent, such temporal blessings as Thou seest expedient for them in this world and crown them with everlasting glory in the world to come. All this we ask in the name and through the merits of Jesus Christ, Thy Son and our Savior.
Amen.
Reverend Jacob Duché
Rector of Christ Church of Philadelphia, Pennsylvania
September 7, 1774, 9 o'clock a.m.